The excellence pathway
In the highly competitive world of the international wine and spirits market we provide a professional customer experience with optimum storage facilities, reduced delivery times, access to reliable information and efficient processing of Customs and Excise obligations. A successful logistics operation has become a crucial commercial factor within the supply chain.
To overcome the challenges of meeting consumers high expectations we provide a high performing and adapting supply chain for our customers. This enables our customers to focus on their individual speciality.
By developing trusting relationships, exchanging accurate data and maximising cost effectiveness, Dartess is always available to guide wine and spirit professionals through this transforming industry.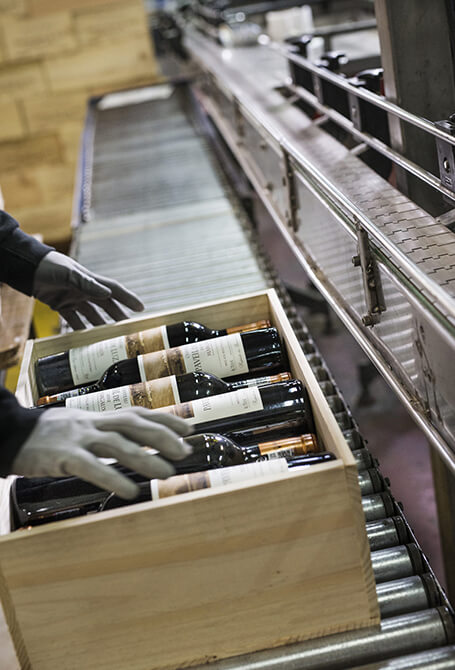 Innovation
« It is not because things are difficult that we do not try to do them. It is because we do not try to do them that things are difficult.»

Sénèque
From seizing an opportunity …
Groupe Tesson established Dartess after being solicited by several main players within the Bordeaux Wine Industry in 2000. It applied its' century of experience in logistics and Information Technology to review and recreate industry adapted solutions.
…to creating new ones.
Our pioneering spirit continues today with small and large innovative improvements, which are suggested by our team members in response to global market changes.
To enable the Wine& Spirits industry to meet and resolve new challenges our company philosophy is based on 3 core values:
Creating new services,
Continuous performance improvement with focus on quality of life at work,
Developing an all inclusive problem-solving culture that embraces simple solutions.
Our secret: Simplicity – be all inclusive – freedom to try!
Our successes !
Direct delivery from Chateau to Cafes-Hotels-Restaurants (CHR) has been made possible within the Greater Paris area -the largest consumer area in France with 700 million bottles a year.

Challenge
How to develop a dependable fine wine delivery service for our Parisian consumers?
Answer
We are developing the first wine and spirits service that takes care of everything for CHR. Dartess is the only intermediary between the Chateaux and restaurants and hotels thanks to a dedicated Parisian platform and its urban logistic network.
---
« After only a few months we have been able to deliver daily to over 100 restaurants and wine merchants! Our dedicated delivery team has helped develop a special relationship with our client's customers to create this winning combination! »
Manu PINTO,
Ile de France Dartess warehouse manager
Results
Our trusted delivery team are familiar with the requirements of the hospitality industry and can adapt accordingly. The trusted reputation of our Dartess team members is epitomised by them being made key holders to several of our client's customer's wine cellars. Our simple and transparent tariffs enable us to offer competitive rates for the last mile.
---
« After engaging five logistic providers in the last six years – I have finally found a truly professional company. »
Loïc GONNET
VINHOP Manager
Family
spirit
« In 1914, Jean Tesson, my grandfather, started a business project which had to be completed in 1919 due to WW1. The Tesson business came into being through the refrigeration industry and providing blocks of ice for fishing boats or personal cool boxes – we celebrated our 100th anniversary 31st March 2019! At Dartess we are always looking to the future whilst making the most of our experience. We are a company who strongly believe in being a business partner who assists our clients in their development and future projects. »

Jean-Eudes Tesson,
DARTESS CEO
The Tesson family spirit still prevails in Dartess today with a focus on strong interpersonal relationships, not only between colleagues but also with our clients and partners. As Nelson Mandela stated "None of us acting alone can achieve success.